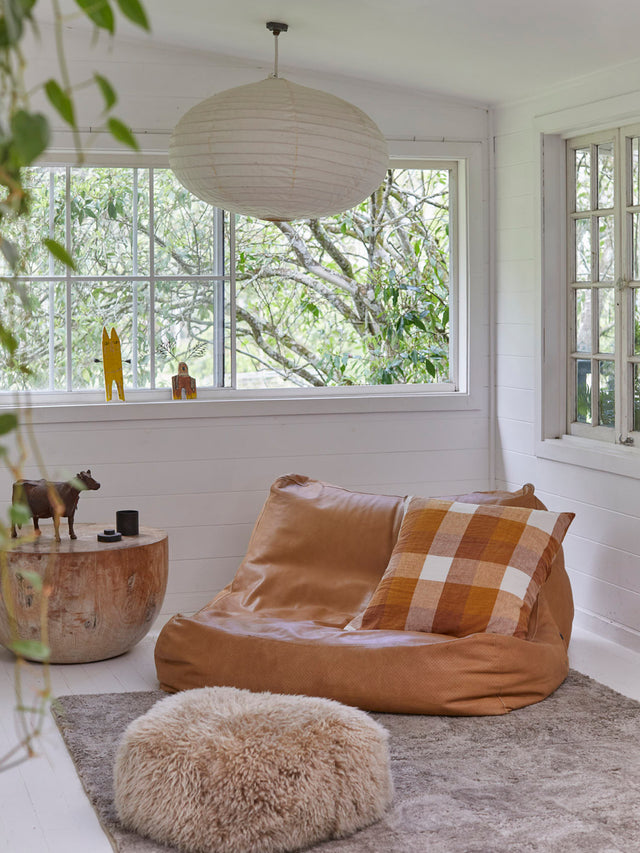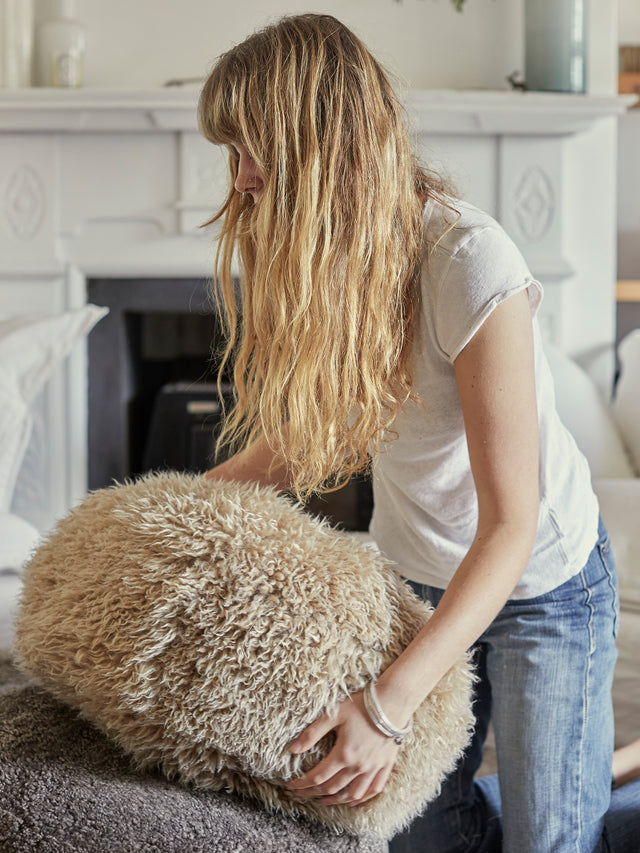 Sheepskin Footstool - Wool Filled
Description
Pile
Extra Long Wool is our most luxurious pile length, making for a true interior statement. This range is a celebration of the innate characteristics of wool in its purest form - preserving the natural curl and growth of each sheepskin. The pile length can vary between 60-80mm, depending on the natural growth of the fleece. Plush and silky to touch, these skins are ideal for spaces needing texture, warmth, or an extra layer of interest. Whether you love a minimal aesthetic or take a "more is more" approach to your interior scheme, an Extra Long Wool footstool will settle effortlessly into your space.

Size
28cm height x 70cm length approx.

Construction
100% sheepskin outer
100% wool fill

Recommended use:
- Floor Seat
- Footstool
- Ottoman
- Head rest
- Floor cushion
- Companion to our Shaggy Bean Bag

The Wilson & Dorset Footstool - our take on a lounge room classic. Designed to fit your natural bends and curves, the Sheepskin Ottoman's organic shape is inspired by our local river-stones smoothed by the mighty waterways of New Zealand's South Island.

Firm enough to use as a floor seat and soft enough to get cosy with as a headrest or floor cushion. The perfect companion to our Shaggy Bean Bag, the two form a dynamic duo as a comfy and portable modular setup. Your Wilson & Dorset footstool is an ideal introduction to the pure joy of sheepskin lounging.

We have created colourways that come in a range of delicate yet lustrous hues, designed to rest easily within any existing colour palette.

At Wilson & Dorset we select premium quality sheepskins grown in New Zealand. We love working with this quality, natural material. Every sheepskin has its own wonderfully unique texture and tone. As with any natural product, there may be variation from the product viewed online and the one you receive.

We choose ethically sourced sheepskin and take enormous care to avoid the use of harsh chemicals, keeping our sheepskin as safe and natural as possible. We are continually improving our production methods to save energy, decrease waste and reduce our environmental impact.
Care
Avoid exposure to sunlight as UV can damage the natural fibres and may fade or discolour your sheepskin. Regular vacuuming is the kindest thing you can do for your sheepskin. A plain suction vacuum (no rolling brush!) will prevent backup of dirt thus maintaining the glossy feel of the wool fibres. Small spills can be gently blotted up with a clean towel and sponged off with a damp cloth. Do not store in damp or wet conditions as the natural leather pelt may deteriorate. Never move or lift your sheepskin by the fibres alone, hold onto the pelt too. Follow these few care
instructions and you will extend the lasting beauty of our products.
We wrote a handy Blog post on how to care for your W&D sheepskin. Read it here.
Shipping
International
Your shipping costs will be calculated at checkout.  We use a combination of delivery solutions around the world and aim dispatch all instock orders within 1-2 business days.
 Please note that taxes and duties are not included for International orders.
Our pre-order lead times currently vary by product. On average, lead times vary between 1 and 4 months. For up-to-date delivery information or help with your decision making, please contact us on + 64 3 443 4376 or via email.
Sheepskin Footstool - Wool Filled
NZD $589.00
---
Laybuy lets you receive your purchase now and spread the total cost over 6 weekly automatic payments.
Always interest-free.
---
Proceed to checkout as normal and select Laybuy as your payment method.
Shop by colour
Each of our colourways are informed by the delicate beauty of the landscapes in our backyard of Wanaka and the neighbouring valleys at the foot of the Southern Alps.
Our colours