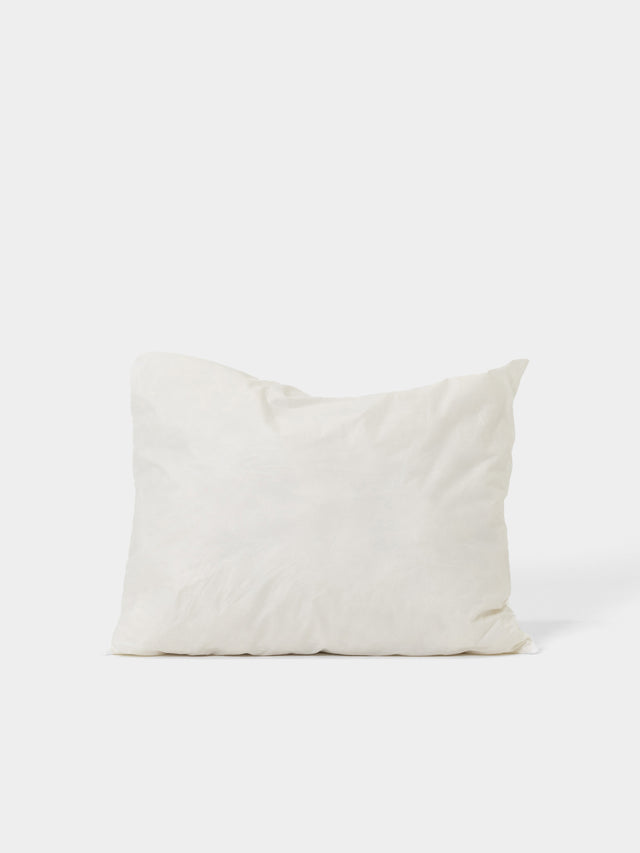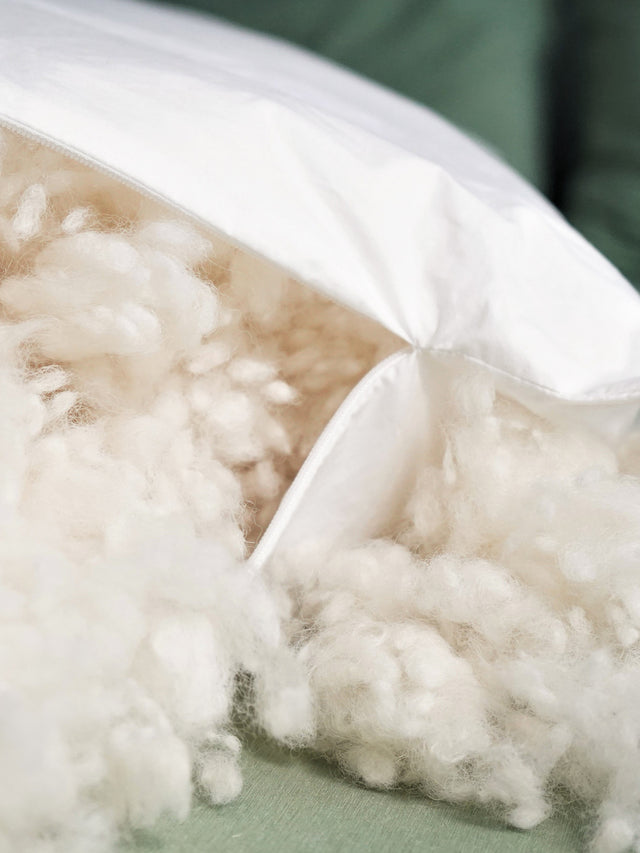 Wool-filled Cushion Inner - 40x50cm
Our Wilson & Dorset cushion inners are made from 100% New Zealand wool.
- Size: Lumbar 40 x 50cm (larger than corresponding cover)
- 100% New Zealand farmed wool fill
- Inner Liner: 100% cotton with YKK zip

Dimensions of this inner are 5cm larger in both length and width to our matching cover to allow for a fuller cushion.
We are proud to use only the best wool from Wisewool, Gisborne, NZ. Read more about our colab here. Hand-filled by our friends from MINT Charitable Trust in Wānaka, NZ. MINT forges great lives for people with intellectual disability in our region.
Wool - A Natural Choice
New Zealand sheepskin is considered worldclass, for both its quality and softness. Sheepskin is 100% biodegradable, stain resistant, a natural insulator, non-allergenic, highly durable, flame resistant, and an odour suppressor.  Sheepskin retains its form because the wool fibres bend and recover their shape naturally, retaining their spring back. Temperature regulating, sheepskin ensures you are warm in winter and cool in summer. 
Wilson & Dorset sheepskins are grown in New Zealand. With sustainability top of mind, we take care to avoid the use of harsh chemicals, ensuring our sheepskins are safe for you and your family. 
We are continually improving our production methods to save energy, decrease waste and reduce our environmental impact. Find out more about this process and our practices right here. 
Care
If you feel your inner requires a freshen up, we recommend removing the wool fill and washing the inner cotton liner. Washing in cold water will ensure no shrinkage.
Whilst the wool is out of the cover, take advantage of letting it breathe and catch some sun rays. Wool loves the sun as much as it loves the fresh air. The rays will naturally deodorize, disinfect, and renew your cushion inner.
Alternatively, you can hand-wash the filled inner in warm water with a wool detergent and let drip dry. Do not soak or bleach. Do not tumble dry.
You might notice a slight woolly scent when you first receive your wool inner. Don't be alarmed, this is how nature smells! It is proof the natural wool is as pure as possible, and this will air out in time or sooner if you remove the fill and allow it to breathe in the air and sunlight.

Give the cushion a good shake and fluff up to rebalance the fill.
Shipping
International
Your shipping costs will be calculated at checkout.  We use a combination of delivery solutions around the world and aim dispatch all instock orders within 1-2 business days.
 Please note that taxes and duties are not included for International orders.
Our pre-order lead times currently vary by product. On average, lead times vary between 1 and 4 months. For up-to-date delivery information or help with your decision making, please contact us on + 64 3 443 4376 or via email.
Wool-filled Cushion Inner - 40x50cm
NZD $100.00
---
Laybuy lets you receive your purchase now and spread the total cost over 6 weekly automatic payments.
Always interest-free.
---
Proceed to checkout as normal and select Laybuy as your payment method.
Shop by colour
Each of our colourways are informed by the delicate beauty of the landscapes in our backyard of Wanaka and the neighbouring valleys at the foot of the Southern Alps.
Our colours